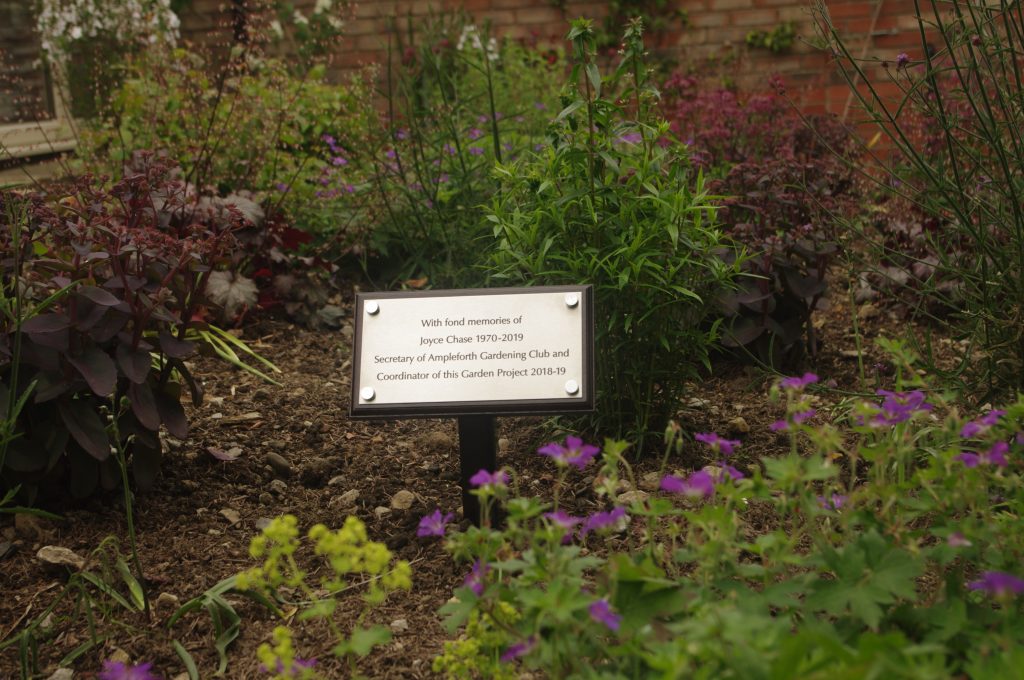 During 2017 and 2018 Ampleforth Surgery was extended and improved. The building work left the garden by the entrance and the area around the car park in need of some redesign and planting. This was discussed by the Gardening Club Committee who agreed to allocate some funding to a project to replant it, subject to match funding from the surgery. This was agreed and additional funds were raised by the Patient Forum.
In 2018, a project was the set up led by our then secretary, Joyce Chase. Joyce set up a team of Lizzie Devereux and Bridget Hannigan, both professional gardeners and Sue Shepherd, our treasurer, to look after the finances.
Joyce was passionate about the garden and following discussions with the surgery staff, Lizzie put together with a design for the garden. It was agreed to plant native hedging in front of the car park to blend in with its rural setting.
2018 was a very hot dry summer and planting was delayed until September. Lizzie and Bridget sourced the plants and hedging and Joyce organised a planting session.
In July 2019 Joyce passed away after a long illness. In recognition of all the work Joyce had put into the development of the garden, and the support she had given to the Gardening Club, it was agreed to dedicate the garden to her. In June 2020 a plaque was unveiled in her memory. The ceremony took place during coronavirus lockdown with a small group consisting of Joyce's family, Dr Black and some club members. The plaque was unveiled by Sheila Harrison, former chair of the club.
The garden is now thriving.